Virgin Islands, Cayman Islands, Switzerland, UAE, Hong Kong, Netherlands, Singapore.
These are some of the most favorable countries for financial institutions, corporations, and online businesses. Investors also send trillions of dollars offshore to stretch their buying power. It's no secret most of the big brands keep trillions in tax havens.
But did you know that 94% of Fortune 500 companies are somewhat involved in blockchain tech?
Governments are trying to regain control of crypto by creating CBDCs, taxing crypto, or straight-up banning it. Especially in the Eastern World.
Ironically, that's where you'll find the 3 most crypto-friendly countries in 2023.
The Most Underrated Countries That Thrive In Crypto
When it comes to the best countries for crypto, which ones come to your mind?
Besides the typical tax havens, most people expect them to be high-tech hubs like Germany, Japan, or some US states. If you check different top 10 rankings, yet, rich countries are the minority. The leaders are second-rate powers, many of which were third-world countries just a few decades ago.
In total, the three underrated countries represent 181M people and about 1% of the world's GDP share. For context, here are the top 12 highest:
Yet, one of them is the no.1 worldwide in crypto adoption. The second leads in DeFi adoption, closely competing with the first. The third country has the highest mining hash rate behind China and the USA.
We're referring to Vietnam, Thailand, and Kazakhstan.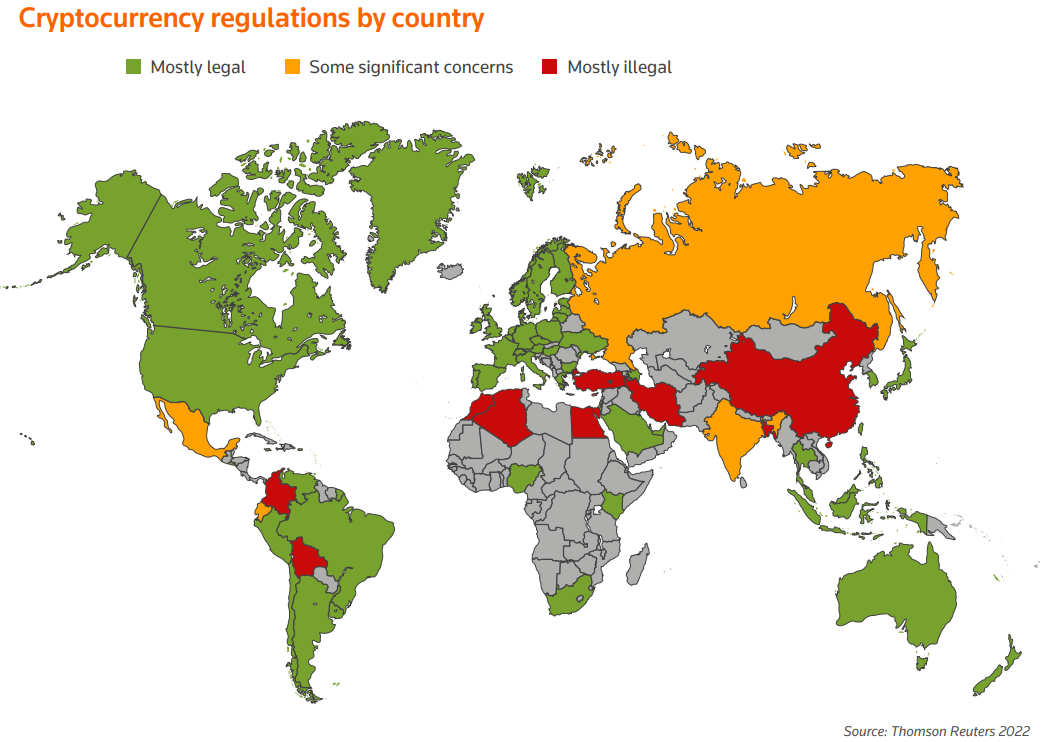 Note that these nations aren't precisely pro-crypto. Two of them have partial bans on crypto (payments). But that didn't stop them from joining the blockchain space.
If you wonder why it's these three countries in the same eastern area, the simplest explanation is China.
Despite its success, the Chinese government had been rejecting cryptocurrencies since 2013. Trading became illegal in 2019, and by May 2021, so did all crypto mining: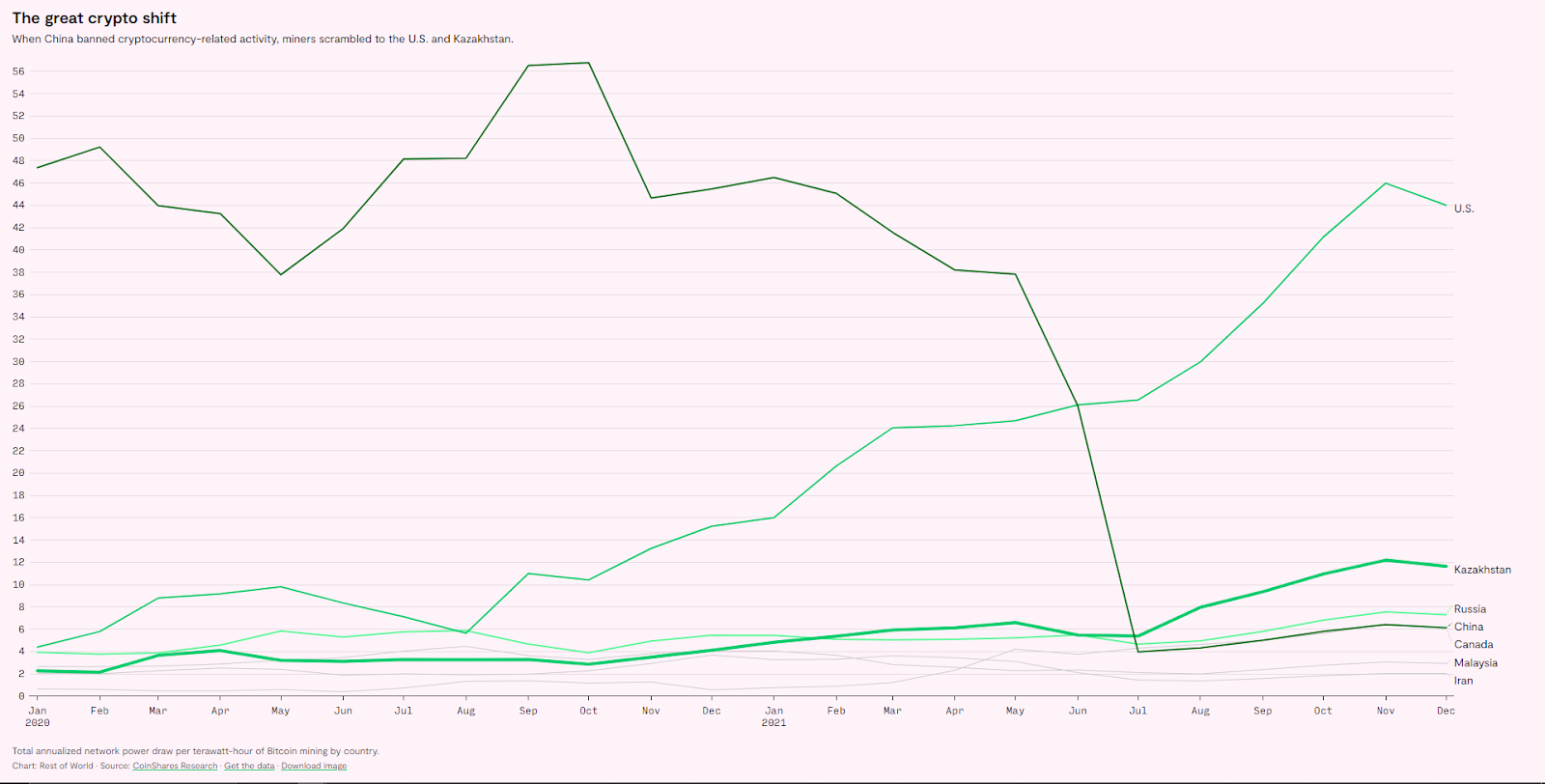 Thus, crypto miners fled to Kazakhstan, Vietnam, Thailand, and such. What they found was plentiful, cheap electricity, neutral regulations, and minimal crypto taxes.
If you're looking for alternatives to the common tax havens, here's why you should consider these three.
Kazakhstan: The 3rd Best Mining Destination
Kazakhstan became the go-to mining hub after China banned crypto in May 2021. It's a large country in Central Asia with a ~19M population. It's also the richest of the three, and by richest, we also mean 60% cheaper than the US average living cost.
Kazakhstan prospers thanks to the mining of coal, uranium, oil, natural gas, and seemingly Bitcoins. Here, miners enjoy $0.04/KWh from an annual energy supply of 114 TWh (nowhere close to China's 8,500 TWh). But given that crypto mining costs a global 120-240 TWh per year, it's more than enough.
Kazakhstan Crypto Tax and Regulations
Kazakhstan has already had protests for blackouts and price rises in fuel. To stop this, the government regulated mining by imposing licenses and energy consumption limits. Many miners ran illegal facilities regardless, which were eventually shut down and seized.
Despite limitations and China being back in business, Kazakhstan still produces 18% of the global hash rate.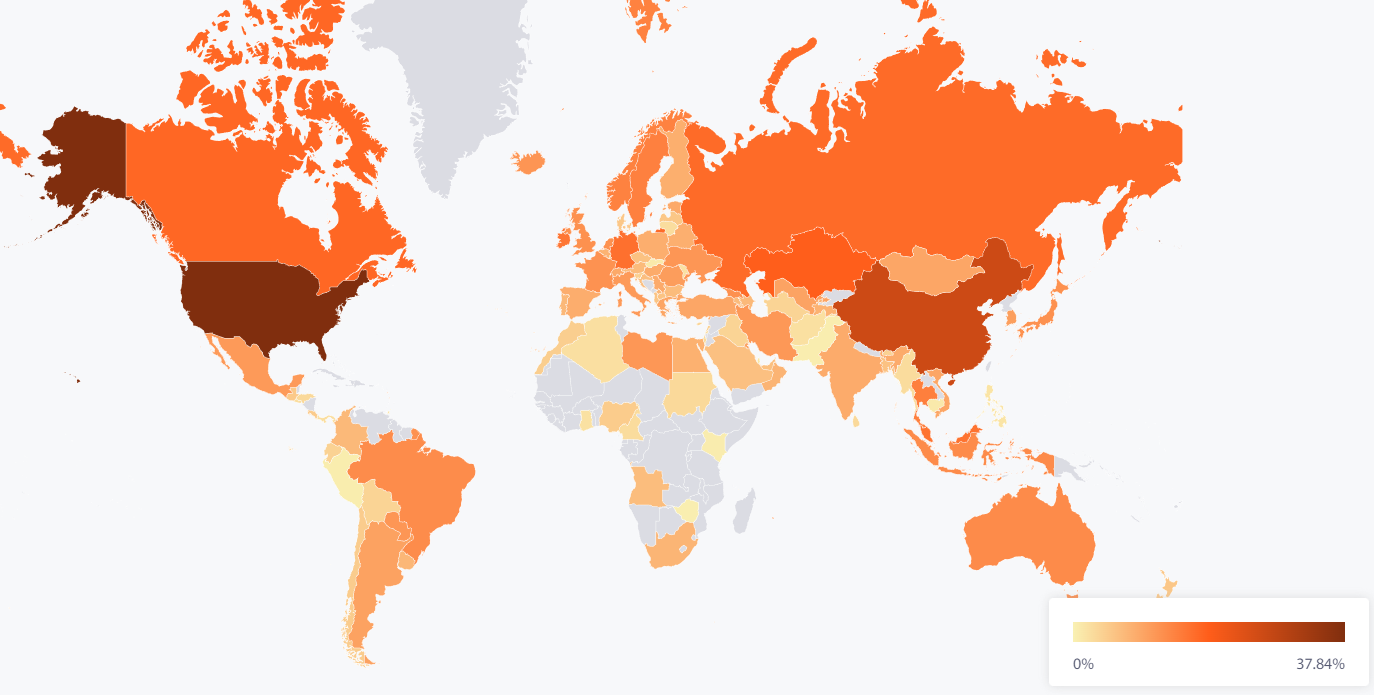 Kazakhstan used to be neutral: no taxes until you sell crypto for fiat. That didn't help with power outages, so instead, there's now:
– Electricity tax as low as 1 tenge/KWh ($0.002) for renewable energy sources
– 15% Bitcoin mining corporate tax
When your next best options are Russia, India, and China, Kazakhstan is an easy choice. Unlike Vietnam and Thailand, cryptocurrency here is legal and encouraged.
Vietnam: No.1 In Global Crypto Adoption
Vietnam is a Thailand neighboring country with ~100M people— 21% of which could be using crypto according to the mass-scale Statista survey of 2021. Even though newer surveys point to +40%, they rarely exceed 50,000 samples, which isn't enough for such a large population.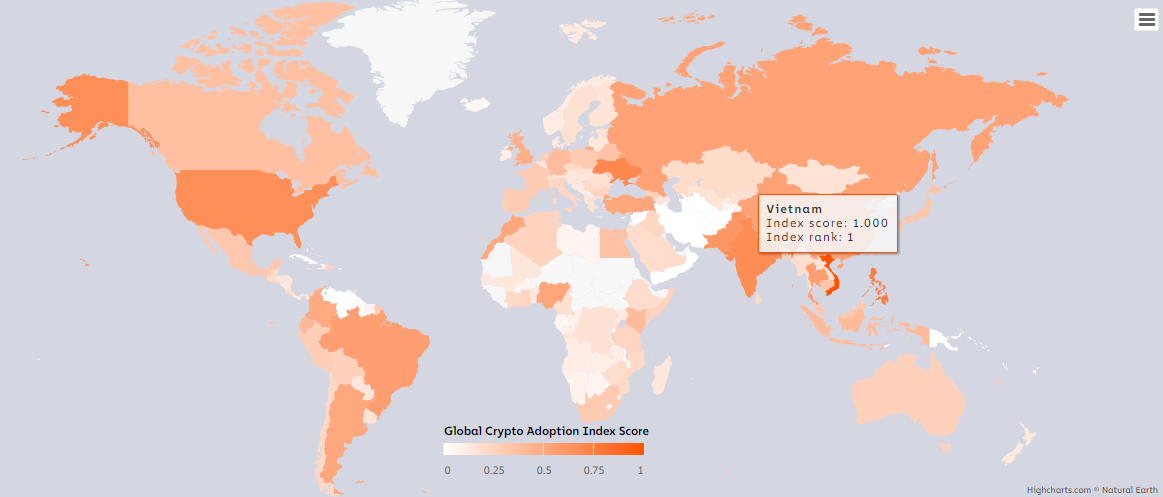 Anyhow, Vietnam is the most favorable when it comes to taxation. It's the only country of the three that hasn't tightened regulations after the influx of Chinese miners. Vietnam provides an annual production of 244 THh at $0.08 per KWh, and its cost of living is 70% below the USA's average.
It's also home of famous projects like Axie Infinity by Sky Mavis.
Vietnam Crypto Tax and Regulations
As of early 2023, there are no crypto taxes in Vietnam. That goes for trading profits, long-term investments, and crypto payments. Regulators have remained silent about the whole situation.
The only thing that's forbidden is to accept crypto payments as a business. It's a partial ban for business owners, meaning that investors and users can spend crypto as normal.
Note that Vietnam, Thailand, Kazakhstan, and countless other countries are currently developing CBDCs (Central Bank Digital Currency). Once developed, it shouldn't surprise you if crypto tax laws change.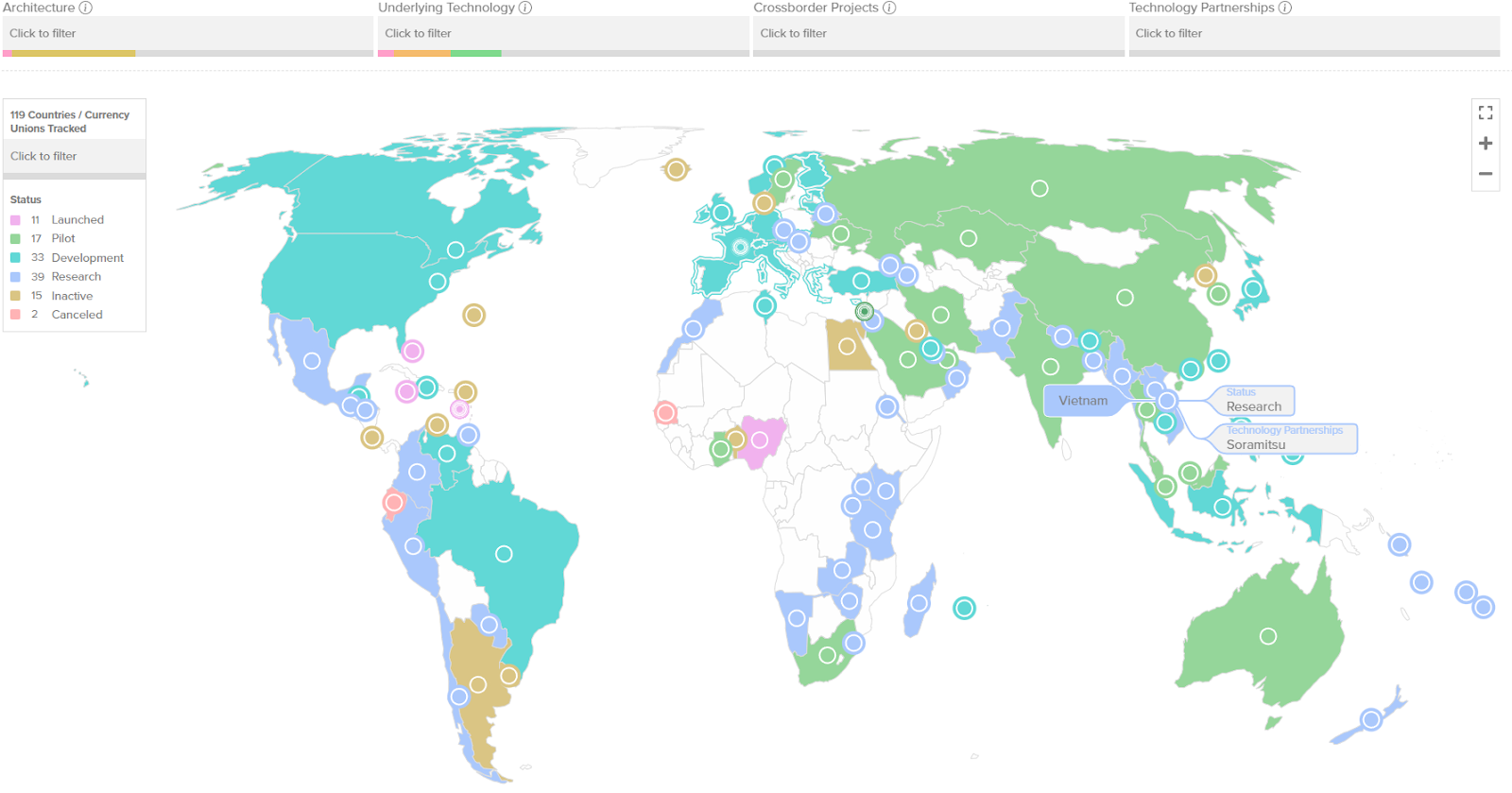 Thailand: Southeast Asia's Trading Hub
Thailand is a popular destination for travelers and crypto traders. Its annual energy production is 186 THw at $0.11/KHw, and the cost of living is 30-65% below USA's depending on the zone. Like Vietnam, Thailand allows cryptocurrencies except for business payments.
But unlike Vietnam, Thailand has better crypto on-ramps and regulations. The Thai SEC has approved native exchanges like Upbit, Zipmex, and Bitkub. This offers convenient fiat conversions and better consumer security.
(There's no such thing in Vietnam. Which is why the $620M Axie hack was so devastating.)
Thailand Crypto Tax and Regulations
Regulators have gone back and forth based on reception. The original tax plan considers crypto as income, ranging from 15% to 35% at most. Due to popular rejection, regulators decided to exempt crypto trades from the 7% VAT until December 2022.
That doesn't exclude the +15%.
Now, according to the Bangkok Post, it seems Thailand will have no crypto taxes whatsoever until December 2023.
And from 2024, Thailand will tax crypto gains at 15% if regulations don't change.
Are Crypto-Friendly Countries Becoming Restrictive?
Most countries that we consider crypto-friendly are actually neutral. They're not willingly allowing tax-free crypto investing. They're just observing and planning how to regulate it.
Proof of this is the hundreds of centralized digital currency projects going on worldwide.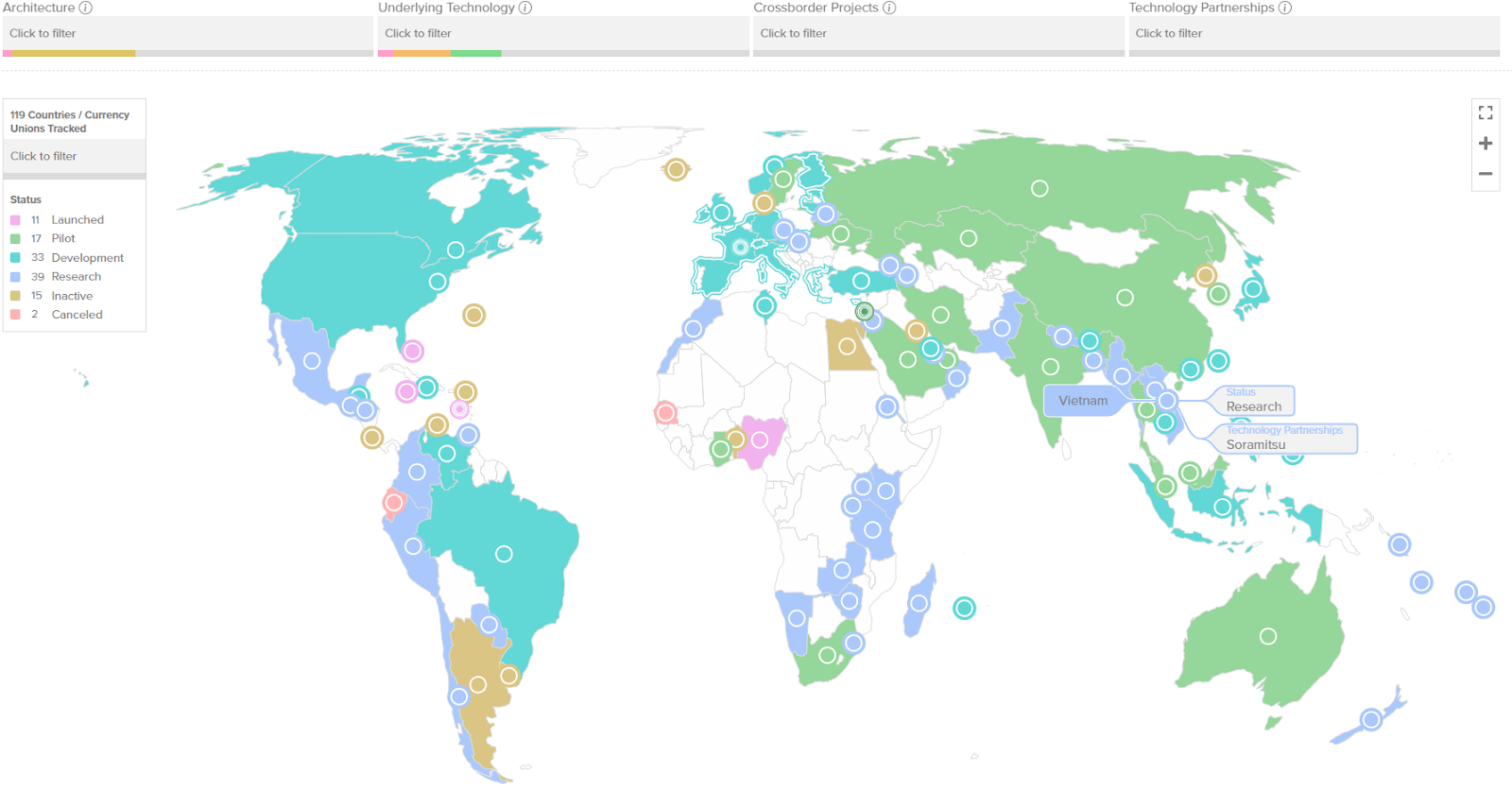 Chances are these underrated countries won't sound as attractive five years from now. But there still will be crypto tax havens, just like traditional ones have existed for centuries. The Cayman Islands, Switzerland (AKA the "Crypto Valley"), and such also work for crypto investors.
Some would wish that countries didn't limit payments as much. But do you think Kazakhstan, Vietnam, or Thailand would be this relevant if Russia, India, or China didn't ban crypto? Regulation can be an opportunity for decentralization.